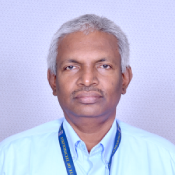 Dr. R. Sundaraguru
Professor
B.E, M.E, Ph.D.
Department of Electronics and Communication Engineering
Industry/Research Experience
Wireless Communication
Wireless Sensor Networks
Underwater Communication
Cognitive Radio Networks
Embedded System
Bio Image & Signal Processing and IOT
International Journal – 58
International Conference – 7
National Conference – 8
Ph. D, PG and UG question paper setting. Ph. D Doctoral Committee member.
Membership Of Professional Bodies
IETE Fellow member
ISTE Life member
IEI member