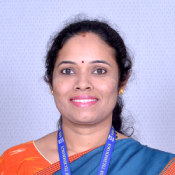 Dr. Rashmi K .V
Associate Professor
M.Sc. (Biotechnology), PhD (Molecular Phylogeny and DNA Barcoding)
Department of Biotechnology Engineering
Industry/Research Experience
Molecular Biology and Genetic engineering
Plant Biotechnology
Plant Genomics and DNA Barcoding
Plant and Animal cell cultures
Bioprospecting of underutilized crops/plants
Ongoing: AICTE – Scheme for Promoting Interests, Creativity and Ethics among Students (SPICES) grant of Rs 1 Lakh for conducting student activities under the JAIVIK forum for a period between May 2021 to April 2022.
Past Funding: Co-investigator for a BIRAC- SBIRI project grant of Rs. 5.36 lakhs on a project entitled "Development of Fusarium resistant banana cv Elakki bale through chemical mutagenesis of embryogenic cells and mass screening for resistance" in association with SM Plant Production Technologies, Bengaluru from January 2018 to October 2019.
Publications in indexed journals
Rath K, Ranganathan P, Vasappa RK, Balasundaram ST. Superparamagnetic hematite nanoparticle: Cytogenetic impact on onion roots and seed germination response of major crop plants. IET Nanobiotechnol. 2020 Apr;14(2):133-141. doi: 10.1049/iet-nbt.2019.0189. PMID: 32433030. (Scopus; SJR:0.34) Q2
Rashmi, K. V., N. Sathyanarayana, and S. M. Vidya. "Variations in the trnHpsbA region of Mucuna pruriens L.(DC.) varieties of India: an insight on intraspecific diversity." Indian Journal of Agricultural Research53, no. 3 (June 2019): 284-290. (Scopus; SJR:274) Q3
Neelagar, Ranjana, Rakshitha Yathish, Shuchintha Srinivasa, and Rashmi Kanugodu Vasappa. "Characterization of paper and pulp properties from weed species." Journal of Applied Biology & Biotechnology Vol6, no. 06 (2018): 61-63. (Scopus; SJR:21) Q3
Rashmi, K.V., Sathyanarayana, N. and Vidya, S.M., Validation of DNA barcoding markers in common Mucuna species of India for taxonomy and pharmacognosy applications. Plant Gene, 12, pp.98-104, December (Scopus; SJR:0.58; Elsevier) Q2
Sathyanarayana, S. Mahesh, M. Leelambika, M. Jaheer, R. Chopra, and K. V. Rashmi, "Role of genetic resources and molecular markers in Mucuna pruriens (L.) DC improvement," Plant Genet. Resour., pp. 1–13, March 2016. (Scopus; SJR:0.31; Cambridge University Press) Q3
Jaheer, R. Chopra, K. R. Kunder, D. Bhat, K. V. Rashmi, and N. Sathyanarayana, "Cytogenetic and ITS-psbA-trnH Sequence Analysis for Phylogenetic Inference in Mucuna sp. of India," Trop. Plant Biol., vol. 8, no. 3–4, pp. 108–116, October 2015. (Scopus; SJR:0.59; Springer) Q2
K. Manjunatha.., S.M. Vidya., K.V. Rashmi., K.L. Mankani., H.J. Shilpa., S.D. Jagadeesh Singh, "Evaluation of wound healing potency of Vernonia arborea Hk.," Indian Journal of Pharmacology, Vol. 37, No. 4, August 2005. (Scopus; SJR:0.37) Q3
K. Manjunatha., S.M. Vidya., K.V. Rashmi., K. M. Shanthala., R.Pai and K.L. Mankani, "Studies on Hepatoprotective Activity Of Vernonia arborea Hk., Against Carbon Tetrachloride Induced Hepatic Damage In Rats." Journal of Tropical Medicinal Plants, Vol. 6, No.1, June 2005.
Publications in non-indexed journals based on students projects
Ash, A., Chakraborty, G. and Rashmi, K.V., Optimization of Protoplast Isolation and Micropropagation Techniques in Rose. Agricultural Science Digest-A Research Journal, 40(2), 167-170. July 2020. ISSN 0253-150X
Aparna B, Bharathi A, Yashas K, Rashmi KV, "In Vitro Propagation and Molecular Characterization of Local Accessions of Santalum Album", NMAMIT Annual Research Journal, Vol 6, pp.9-12, December 2016. ISSN 2249-0426
DNA Barcode Sequences submitted to NCBI Genbank
Region
Number of sequences

Genbank accession numbers

 

ITS2
21
KX499607 – KX499627
psbA-trnH
53
KX164503 – KX164508; KX606865 – KX606911
matK
24
KX606939 – KX606958; KX661004; KX721057 – KX721059
rbcL
28
KX606912 – KX606938; KX721060
Membership of Professional Bodies
Life Member of The Indian Science Congress (ISCA) with the membership ID L39883
Honours & Achievements
International Level:
Young South Asian Researcher on SCP Award at World Sustainable Development Summit 2016 held at the India Habitat Center and TERI university, New Delhi between 5th to 8th October 2016
National Level:
Best Paper Award – Won 1st Prizefor paper presentation at the online National Biotechnology Symposium – SymBiot'21 on October 16, 2021, hosted by the Department of Biotechnology, Manipal Institute of Technology in collaboration with the Institution of Engineers – Biotechnology, Manipal Chapter.
Best Poster Award – Won 2nd Prize at the for Poster presentation at a National Conference on Advances in Plant Biotechnology organized by Dayananad Sagar University, Bengaluru on 28th January 2020.
National Level Topper NPTEL Functional Genomics Course with 94% score during August to September 2019.
State Level:
Won 2nd Prize (Cash Prize of Rs 25,000/-) at the Anveshana 2020 State Level Science Exhibition for the project titled "Nutritional Formulations from Mucuna pruriens".