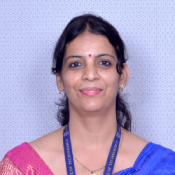 Dr. Savitha Choudhary
Professor
M.Tech, Ph.D.
Department Of Computer Science & Engineering
Soft Computing
Data Mining
Big Data
Machine Learning
Natural Language Processing
IoT
International Conference: 13
International Journal: 17
National Conference: 05
Membership of Professional Bodies
No. of Ph.Ds Guided/ Guiding
All India First Position at AICTE's Chhatra Vishwakarma Awards for the year 2019.
'Winner' of the technical paper at "Grace Hopper Celebration India – 2017", organized by ACM India, Bangalore.
Session Chair for Various International Conferences.
Best Paper Award at International Conference on "Emerging Research in Computing, Information, Communication and Applications" at NITTE, Bangalore, 2015.
Practical Examiner
Question paper setter
VTU theory Duty