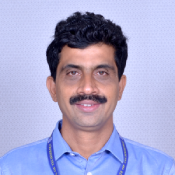 Dr. Prashanth G.K
Associate Professor
M.Sc, M.Phil, Ph.D.
Department of Chemistry
Industry/Research Experience
Material Science
Environmental Chemistry
Crystallography
International Journals: 33
Book Authored: 02
Patent publications: 5
No. of Ph. Ds guiding: 2
Papers/Posters presented: 12
Chapter in Edited book: 1
Patent applications filed: 4
Membership of professional societies:
Life member of the Luminescence Society of India: Karnataka Chapter (LSIKC)
Google scholar link: Click Here >>
Researchgate link: Click Here >>
Second place in B. Sc. at University level.
Third rank in M.Sc.
National Merit Scholarship by the Govt. of India.
Subject scholarship by the University.
Prof. Anjana Murthy endowment Gold Medal.
Prof. Vrushabhendrappa endowment Gold Medal.
Prof. Sreenivasa Rao Memorial Cash Prize.
Best paper of the month by IJAETMAS (October 2014)
Member- Ph. D course work question paper scrutiny committee.
Resource person- VTU e-Shikshana program-06.
Link of Chemistry lecture (VTU e-shikshana-06)
shorturl.at/fmrVZ
shorturl.at/AWX02
shorturl.at/lvCN6
shorturl.at/beKO7
shorturl.at/fiDPZ
shorturl.at/ltY24
shorturl.at/gNOU2