Principal, Sir M. Visvesvaraya Institute of Technology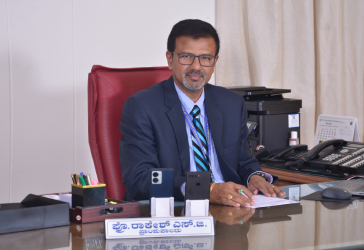 With great pleasure, I welcome you to our institution's website. Our institution, named after the great statesman and engineer of all times, Bharatha Ratna Sir M. Visvesvaraya, is run by Sri Krishnadevaraya Educational Trust. The trust is managed by a group of philanthropists and visionaries who have envisioned creating top-quality engineering graduates with good human values.
Sir MVIT has been the most sought-after institution for engineering aspirants since its inception in 1986. The institution has a well-balanced faculty from academia,
industry and research organisations. The Institution has well-equipped laboratories, good sports facilities, a well-stocked library, and good hostel facilities. The institution's motto is to transform ordinary students into extraordinary ones by imparting quality technical education through experiential learning and by providing holistic education. The placements have been excellent, and top-notch companies seek out our students every year.
As Principal, I feel honoured and privileged to be part of this great institution which has been striving hard to produce engineers par excellence with a sense of commitment towards societal needs, keeping in mind the rural and underprivileged population.
I believe in upholding high standards with a commitment to improving academic standards, continually raising the benchmark year after year with the absolute goal of preparing our students to take on challenges and provide solutions to every problem they face after graduating from this great institution.
We make learning a more 'pleasurable' activity than a 'pressurising' one!
Our Core Values:
S – SOCIETY & SUSTAINABILITY
I – INTEGRITY & IMAGE BUILDING
R – RESEARCH FOR THE REAL WORLD
M – MULTIDIMENSIONAL MOTIVATION
V – VISION & VISIBILITY
I – INTELLECTUAL EXCELLENCE AND INNOVATION
T – TEAMWORK & TRANSPARENCY