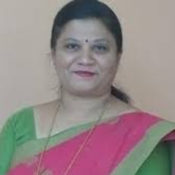 Dr. Manjula Sanjay Koti
Professor & HOD
MCA, M.Phil, Ph.D.
Department of MCA
Industry/Research Experience
Data Mining, Data Analytics, Data  Warehousing ,Analysis and design of Algorithms, Software Testing ,Pattern Recognition, Operating Systems, Data Base Management System, Software Testing and Practices.
Patents -2
International Conference: 17
International Journal: 19
BOS Member (2019-2022)
Member of BOE for Visvesvaraya Technological University for the academic year 2017-2018
Worked as Examiner, Moderator, Paper setter for PG board.
Evaluator for Ph.D. thesis and MCA report
Membership Of Professional Bodies
Doctoral Committee member
Resource person for the online FDP on Role of Artificial Intelligence in Healthcare Crisis" organized by Sri RamaKrishna College of Arts & Science for Women, Coimbatore on May 18, 2020.
Resource person for the online FDP on "Artificial Intelligence and Its Applications" organized by Vels Institute of Science, Technology and Applied Sciences, Chennai on May 14, 2020.
Session Chair for the IEEE International Conference on Innovative Mechanisms for Industry Applications, Dayananada Sagar College of Engineering, March 5-7, 2020.
Certificate of Appreciation from NPTEL for being an active SPOC for the SWAMYAM-NPTEL Local Chapter, 2019-2020.
Organized International Conference on Evolutionary Computing and Mobile Sustainable Networks, Feb 20-21, 2020, Sir M Visvesvaraya Institute of Technology, Bangalore, India. Proceedings to be published in Springer Lecture notes on Data Engineering and Communication Technologies. Extended versions of the paper will be published in Elsevier Journal of Computers and Electrical Engineering.
Member of Board of Studies for Visvesvaraya Technological University, Belagavi, India(2019-2022).
Technical Program Committee member for the AICTE sponsored International Conference on Recent Trends in IOT and BlockChain, Oct 19-20, 2019, GIET university, Gunupur India.
Program Committee member for International Conference on Engineering Technology and Management, Sep 13-14, 2019, Colombo, Sri Lanka.
Chaired the session on "Role of Cyber Security in Data Mining & Its Applications", at the International Conference on Cybersecurity and Privacy in Communication Networks on Oct 26-27, 2018, Suresh Gyan Vihar University, Jaipur, Rajasthan.
Member of BOE for Visvesvaraya Technological University for the academic year 2017-2018
Received Award for Excellence Teaching in Higher Education award from International Research Institute, Bengaluru on March 8, 2018.
Received Research Excellence award from Institute for exploring advances in Engineering in 2017.
Technical program Committee member for the International Conference on Next Generation Computing Technologies, University of Petroleum and Energy Studies ,Dehradun, India, October 30-31, 2017.
Organized a special session at the International Conference on "Advances in Machine learning, Big data analytics and deep learning at ICACET2017 on Feb 17, 2017, The Hotel Solitare, Bangalore.
Delivered keynote address for the International Conference on Trends in Information, Management, Engineering & Sciences on Jan 22-23, 2016 @ Malla Reddy College of Engineering, Hyderabad, India.
Received Best Paper award at the International Conference on Innovations in Engineering and Technology, Singapore, May 21-22, 2016