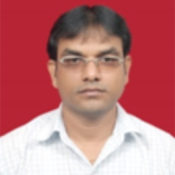 Dr. Chandrashekhar Naik
Professor
M.Sc (Microbiology) M.Phil (Microbiology) Ph.D (Microbiology)
Department of Biotechnology Engineering
Microbiology
Immuno Technology
Microbial Biotechnology
Enzyme Technology
Fermentation Technology
Downstream Processing Technology
 

Sl. No.

Journal  Name
Journal  Type
Volume Number
Issue Number
ISSN

 

Paper Title

1

 European Journal of Biotechnology and Bioscience

International

6

2

ISSN: 2321-9122

Isolation, production, and purification of the new thrombolytic enzyme from Cladosporium Spp.

2
J. Gen. Appl. Microbiol.
International
DOI: 10.2323/jgam.2017.11.006

–

ISSN:

1349-8037

Enhanced delignification of lignocellulosic substrates by Pichia GS115 expressed recombinant laccase"
3
Biotechnology Journal International
International
20
2
ISSN: 2456-7051
Use of gene-specific universal primers for isolation of DNA sequences encoding laccase enzyme from a wild isolate of Schizophyllum commune"
4
International Journal of Computational Biology and Bioinformatics
International
6
1
ISSN: 2454-9878
Insilico investigations of snake venom toxins as therapeutic peptides for treating autoimmune disorders (rheumatoid arthritis)
5
The Natural Product Journal
International
5
3
ISSN: 2210-3155
Determination of Phytochemicals by GC-MS in Two Fractions (17 and 21) of Methanol Extract of Loranthus Micranthus and their Antioxidant and Anti-Inflammatory Activity,  volume
6
Advancement in Medicinal Plant Research (AMPR). 2015, 3(3), 87-91
International
3
3
ISSN: 2354-2152
Anticoagulant activity of partially purified coumarin(s) extracts of Sonchus oleraceus,
7
Applied Biochemistry and Microbiology 2015, Vol. 51, ( 4), pp. 432–4411
International
51
4
ISSN: 0003-6838
Production, purification and characterization of novel laccase produced by Schizophyllum communeni07 with potential for delignification of crop residues.
8
Journal of Enzyme Research.  2014. 5, (1),  pp.-055-065
International
5
1

ISSN:

0976-7657

A statistical approach for enhancing laccase yields from white rot fungi (wrf) using response surface methodology.